Ruth Oneufer: Dog Trainer & Owner
I have spent many years doing precision training for competition and showing. That's a great hobby and the titles and trophies feel amazing to win. But at this point in my life, what I really want is to be able to have my dogs around me as much as I can in my everyday life. I love that we can go on long walks without a leash, and that I can walk them so calmly we don't even disturb wildlife.
I love learning about the newest technologies and the latest behavior theories. I understand that training styles change and I have changed as well. I'm constantly taking classes and seminars to better help others. There isn't anything I'd rather do. Dogs die from behavior problems — there is no need.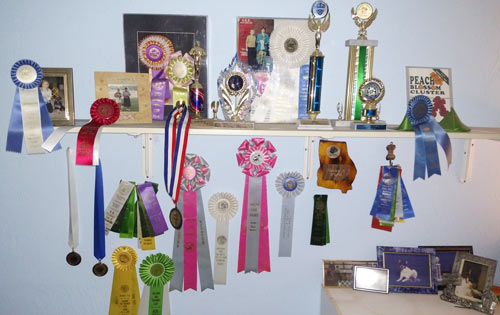 Some background:
I have been training dogs for three decades and am certified by the International School for Dog Trainers. I'm a member of the International Association of Canine Professionals. I have taught both individual and group classes. I have shown in obedience and rally and have done some agility. I spent a year learning how to train dogs for bomb and drug detection.
Unrelated to my dog resume, I spent the greater part of my working life in the newspaper industry as a page designer, editor and writer.